For Your Everyday Adventures Original TickKey™ Has You Covered.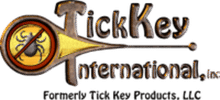 Adventure Pets is proud to carry Tick Key in Mandeville, Louisiana. Original TickKey™ is a Connecticut, USA-made tick removal device that is highly effective in removing ticks of all sizes and types. After launching our product in 2007 and presenting it at SuperZoo in 2009, Tick Key Products, LLC was formally established the following year.
Come visit our pet store in Mandeville, LA specializing in quality food, treats, and supplies.